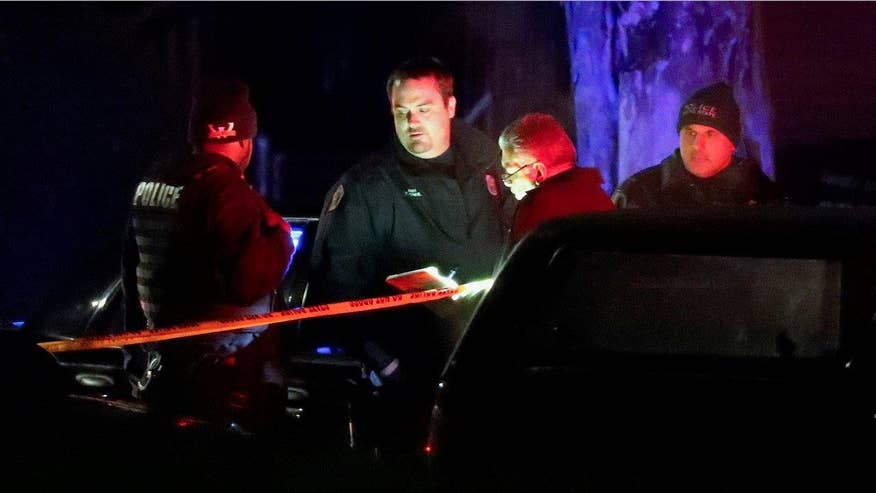 A total of 60 law enforcement officers have died in firearms-related incidents in 2016, marking a 67 percent increase since 2015, the National Law Enforcement Officers Memorial Fund reported.
Citing a preliminary report from January 1 through November 23, the organization said that Texas has seen the most fatalities this year with 18. So far, 130 officers have died nationwide.
The worst single attack was in July, when a black military veteran killed five white officers at a protest in Dallas — the deadliest day for American law enforcement since Sept. 11, 2001. Ten days later, a former Marine killed three Baton Rouge, Louisiana, police officers.
WAYNE STATE UNIVERSITY POLICE OFFICER DIES AFTER SHOOTING
San Antonio Detective Benjamin Marconi was the 60th officer shot to death this year, compared with 41 in all of 2015, and the 20th to die in an ambush-style attack, compared with eight last year, Craig W. Floyd, president of the National Law Enforcement Officers Memorial Fund, said.
An ambush-style attack does not necessarily involve someone lying in wait for police officers; it's any shooting designed to catch police off guard and put them at a disadvantage, Floyd said.
"There usually is an element of surprise and concealment involved," he said, and it's unprovoked.
Police have been killed while writing reports, like Marconi was, or eating in restaurants. They've responded to 911 calls, only to have people shoot them as they get out of their cars. And in the Dallas shooting, they were targeted by someone in a building.
"In all the cases, the officers were essentially assassinated before they had any contact with the suspect or placed that suspect in jeopardy," said Nick Breul, the Memorial Fund's director of officer safety and wellness.
This year's targeted killings are the most since 1995, Floyd said. In fact, Marconi's was the fourth targeted slaying of an officer this month: On Nov. 2, two Iowa officers were killed in separate but related attacks. And on Nov. 10, a Pennsylvania officer was targeted as he responded to a domestic disturbance.
The attacks on police in Dallas and Baton Rouge came amid protests over the shootings of black men by white officers, and were carried out by black gunmen — but race is not always a motivating factor, Floyd said.
In fact, he said, white men are responsible for most police slayings, and the majority of people shot and killed by police are white.
Some officers have been killed by people who identify with the so-called sovereign citizen movement, whose adherents believe they're immune to most state and federal laws, including paying taxes and getting driver's licenses. Gavin Long, the Baton Rouge shooter, had filed documents last year declaring himself sovereign.
The man who shot and killed the two Iowa officers earlier this month as they sat in their patrol cars had a history of contacts with police, including a recent confrontation with officers at a high school football game.
Others have been mentally ill.
"So much dialogue has centered around race relations, but there is a hatred in this country right now that's just gotten out of control," Floyd said. "There is a lack of respect for government in general, and the most visible and vulnerable symbol of government in America is patrolling our streets in marked cars."
The Associated Press contributed to this report