Two homeless people who had been trying to keep warm in freezing conditions have died after a fire ripped through a building in Manchester's Chinatown, yards from the quarter's imperial arch.
A fleet of fire engines were sent to tackle the flames, which illuminated the decorative gateway at the peak of the blaze and blocked city centre roads.
Just after 11.30am on Friday police announced that they had discovered two bodies inside the burnt-out building.
It is understood the two people, a man and another who remains unidentified, were homeless and may have lit a fire to keep warm in the freezing temperatures. The bodies were found on the first floor of the building in Nicholas Street, which is known locally as a place where homeless people have slept rough in the past.
Police said they were working to establish the identity and age of the victims, which they said could prove difficult due to the nature of their injuries.
The huge blaze began at about 2.15am and threatened to cause disruption as shoppers headed out to grab Black Friday shopping deals.
Chief InspGareth Parkin, from Greater Manchester police, said: "These are tragic circumstances and we working to identify the people who were found in the building."
Police have launched a joint investigation with Greater Manchester Fire and Rescue (GMFRS) to to establish how the fire started.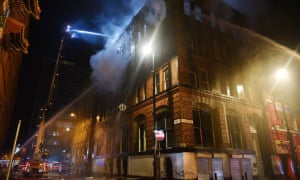 Phil Nelson, group manager of GMFRS, said: "Crews are still working hard to extinguish the building. We're using two aerial appliances which have worked well in containing the fire and preventing spread to other buildings."
At its peak, the blaze lit up the Chinatown arch and caused severe damage to the building. Fire crews were tackling the incident from a distance to avoid falling debris, with fears the structure could collapse.
The blaze was contained by about 6am but Portland Street, Princess Street and Faulkner Street remained closed and anyone travelling to the area was urged to find alternative routes.
The fire was contained to the building and it is believed there is no fire damage to other buildings. Between 10 and 15 firefighters would remain on scene for the next few hours.
Manchester borough manager Paul Etches said the building was unsafe and had been unoccupied for some time. He added that the key priority was to make sure there was no one else in the building.