After years of austerity, and at a time of rising concern about immigration and uncertainty about the future direction of the UK, the political and economic conditions appear to be ideal for the far right. Across Europe – particularly in France, Denmark and the Netherlands – it is animated and resurgent, scenting electoral success just over the horizon.
In the UK, however, the extreme right is fractured, leaderless, confused and dispirited. It is also highly unpredictable and, on occasion, violent. Rather than one party or group – such as the British National party (BNP) or the English Defence League (EDL) – dominating the stage, a couple of dozen smaller groups vie for attention.
Some continue to contest local elections, but the growing popularity of Ukip in recent years has presented former supporters of the BNP and other far-right parties with an opportunity to vote for an anti-immigration party that is not considered disreputable.
Other groups favour so-called direct action, such as picketing mosques, invading halal abattoirs and harassing staff at Muslim-owned restaurants. Others still prefer to stage rallies and marches, bringing them into conflict with anti-fascist campaigners and, frequently, the police.
Each confrontation ensures that future events attract more people seeking violence. A handful of groups have started organising martial arts training and survivalist boot camps, and recent months have seen an increase in hate crimes. There has, in the words of the Met police commissioner, Sir Bernard Hogan-Howe, been a "horrible spike" in such crime.
In many respects, racial nationalism in Britain in 2016 resembles that of the late 1990s, before the BNP was reorganised by its then leader, Nick Griffin. After taking control of the party in 1999, Griffin rid it of what he called "the three Hs: hobbyism, hard talk and Hitler". Members focused more on a new enemy – Muslims and Islam. Activists swapped their boots for suits, grew their hair a little and began winning council elections. In 2009 the party won two European parliament seats.
Now the far right is back where it was almost 20 years ago, a series of micro-groups struggling to be seen and heard. Many of these groups have members in West Yorkshire, where Jo Cox's killer, Thomas Mair, lived, although it appears he was not a member of any of them.
Paul Meszaros, the county's coordinator for the anti-fascist group Hope Not Hate, says: "The far-right scene in West Yorkshire is no different to the rest of the country at the moment, which is unusual, because it used to be the BNP's capital."
Many veterans of the right are unsurprised by the waning of their fortunes, saying success has always been cyclical. At some point in the future, they predict, they will again be something of an electoral force.
Jim Lewthwaite, a former member of the National Front and a former BNP councillor in Bradford, says: "We're going back to the same cyclical position as we were before 2001. The right is totally fragmented and on its back, waiting for something to happen.
"But remember how fast it went when it did take off? If things did happen, if Ukip were to fold, or if significant fragments of Ukip were to say we want a tougher line, and there were somebody leading it in our direction, or someone on our side that they trusted … we wouldn't have to rebuild the organisation a second time.
"There are experienced people out there who are simply taking a back seat. They haven't ceased to be nationalists, they don't need to be reconvinced. They have concluded that nothing is happening right now, so there's no point in doing anything. But if something caught on, and it started snowballing, they would get involved."
The "things" that could happen, and which Lewthwaite and others believe could lead to the far right becoming an energised and coherent force in British politics, include, of course, serious Islamist terrorist attacks.
In the meantime, this is the shape of the far right in Britain today:
The electioneers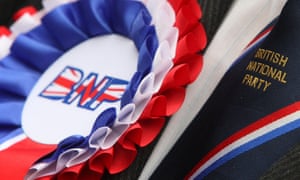 Lewthwaite is now a member of the British Democratic party, a BNP offshoot led by Andrew Brons, a former member of the National Socialist Movement in the UK, a now-defunct neo-Nazi group, and a former leading light in the National Front. In 2009 Brons was elected to the European parliament for Yorkshire and the Humber for the BNP. The party says it has about 30 members.
The BNP is in turmoil. Its electoral high point can now be seen to have been the 2009 European parliament elections when it won two seats. At the general election the following year, the party won 564,000 votes, but failed to win any seats and was virtually bankrupted in the process. After a series of increasingly bitter internal feuds, Griffin was expelled in 2014. He had been accused of trying to destabilise the party and harassing its members, which he disputes. The BNP still claims to still have 3,000 members, but this might be an exaggeration.
Ukip went out of its way to win votes from BNP supporters who – like Ukip's core support – tended to be not only white, but older, perhaps poorer and male. The party's interim leader, Nigel Farage, says he is proud to have inflicted so much damage on the BNP. He says Ukip achieved this "by going out and saying to the BNP voters: 'If you are voting BNP because you are frustrated, upset with the change in your community but you are holding your nose because you don't agree with their racist agenda, then come and vote for us.'"
Liberty GB, an Islamophobic and anti-immigration party founded in 2013, fielded three candidates in the 2014 European elections, winning a little more than 0.1% of the vote in the South East England constituency. It also contested the Batley and Spen byelection, which was triggered by the death of Cox, winning 1% of the vote.
The National Front, which was formed in the 1960s and won almost 200,000 votes in the 1979 general election, is seen by many on the right as a spent force, riven by factional infighting and occasional fist fights. It still fields a handful of candidates at elections.
The Islamophobes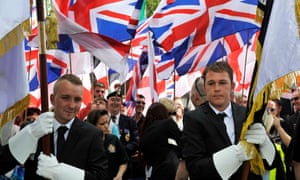 Britain First was set up five years ago by former BNP members, and is led by Paul Golding, a former BNP councillor. Its membership is thought to amount to a few hundred, but it has a sizeable digital presence. Its Facebook page has received almost 1.5m likes.
The party's website was registered by Britain First Merchandise Ltd, the company that Golding and his deputy, Jayda Fransen, established two years ago to sell hoodies, hats and polo shirts emblazoned with the party's logo. The pair appear not to have been aware that the wearing of political uniforms is an offence in Britain, and has been since the Public Order Act 1936 was introduced to inhibit the blackshirts of Oswald Mosley's British Union of Fascists.
Golding and Fransen were arrested under the act earlier this year while leading what they described as a "Christian patrol" through the Bury Park area of Luton in Bedfordshire, a neighbourhood with a large Muslim population. Golding admitted the offence and was fined £460. Fransen was also charged with a religiously aggravated public order offence. She denied the charges, insisting she had done nothing wrong, but was convicted and fined a total of £1,200 with £720 costs.
Bedfordshire police also obtained an injunction that prohibits the pair from returning to Bury Park and bans them from entering any mosque or Islamic cultural centre in England and Wales.
Britain First's policies include the introduction of a complete ban on Islam, prohibiting the media from using the word "racism" and paying people "of foreign descent" to leave the country permanently.
It engages in what it terms direct action. Since being banned from entering mosques, its members have invaded a number of restaurants that use halal meat, and posted films of the incidents on the party's website.
It issued a statement condemning Cox's murder and saying that Mair was "categorically not a member" after witnesses described him shouting "Britain first" as he carried out the killing. Golding declined to be interviewed for this article.
Pegida UK was launched by the former EDL founder Stephen Lennon, who calls himself Tommy Robinson, and Paul Weston, the chairman of Liberty GB. It is modelled on the German street protest organisation Patriotic Europeans Against the Islamisation of the West. Its first rally, at an industrial estate in Birmingham last February, attracted about 200 people.
The EDL still has a few hundred supporters, but the days when it could attract 2,000 people to its rallies are long over. It largely collapsed as a street protest movement after Lennon left to forge a relationship with Quilliam, the counter-radicalisation thinktank. He was later jailed for mortgage fraud and helped form Pegida UK on his release.
The sieg heilers
The newcomer to the out-and-out Nazi end of the spectrum is National Action, established about three years ago by a handful of university undergraduates. It is estimated to have about 100 members.
Over the last 18 months, members have filmed themselves defacing Jewish monuments and have staged a series of events that they describe as "white man marches" in towns and cities in the north of England.
One such event ended in farce last year, when members attempted to march through Liverpool, which they had condemned as "the heart and home of the reds". They were unable to move beyond the city's main railway station, after being outnumbered and surrounded by protesters who pelted them with fruit while chanting: "Master race, you're having a laugh."
Other events in Liverpool and elsewhere have ended in violence and arrests, however, and one member, Zack Davies, is serving a life sentence for attempted murder after launching a machete attack on a young dentist, later saying he chose his victim because he looked Asian.
Since Cox's death, National Action has adopted the words "death to traitors, freedom for Britain" as its slogan. This is what Mair declared to be his name when asked to identify himself during his first court appearance.
Other newcomers include the Infidels, a network of regional groups Hope Not Hate says is linked to the National Front and is "the most obnoxious and criminal group on Britain's far right". The Infidels probably have no more than 100 members, many of them in Lancashire.
Combat 18, the neo-Nazi group that takes its name from the first and eighth letters of the alphabet – A and H for Adolf Hitler – still exists, 25 years after it was founded, although Hope Not Hate estimates its membership at only 20 to 30. Others on the far right are suspicious of the group. "Combat 18 was set up as flypaper for special branch" is a typical jibe.
Other micro-groups at this end of the spectrum include the Racial Volunteer Force, the British Movement, the neo-Nazi music promotion organisation Blood and Honour, and a group that calls itself the Misanthropic Division.
The dining club, the thinktanks, the Poles and the publisher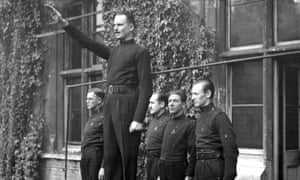 One of the most curious groups on the far right is the Friends of Oswald Mosley, a dining society for former blackshirts from the British Union of Fascists and its successor, the Union Movement.
A spokesperson helpfully explained: "We are pro-Islam, pro-EU, against US global supremacy, anti-capitalist, anti-state socialism, pro-syndicalism." He declined to invite the Guardian to one of the group's dinners, however, on the grounds that "we would rather chew broken bottles than help you in your latest hatchet job".
The IONA London Forum is one of a small number of far-right thinktanks, which meets regularly in London pubs and hotels, and invites speakers from overseas, many of them Holocaust deniers. The London Forum is organised by Jeremy Bedford-Turner, a former British army officer.
Other such groups have been established in Yorkshire and South Wales. Lewthwaite says: "The idea that serious nationalists spend a lot of time out on the streets, picking fights with policemen, we see as a bit of a joke. The National Front has a wing which is rather like that, but they're not all like that. Some of them have more going on in their heads. Serious nationalists at the moment you'll find at fora."
The Narodowe Odrodzenie Polski, or National Rebirth of Poland, also has a number of members in the UK. Its Polish skinhead members have appeared at a number of National Action's "white man marches" and it has recently established an English-language website for UK-based members and supporters.
Finally, the League of Saint George – "small, relatively inactive and irrelevant" in the view of Hope Not Hate – does little but publish and distribute fascist books. Its current list includes such titles as Hitler's Olympics – The Facts, We Marched With Mosley and the unforgettable That Bastard Churchill.