Chris Pratt endorses billionaire Rick Caruso for LA mayor after seeing city's 'decline' into 'utter disarray'
close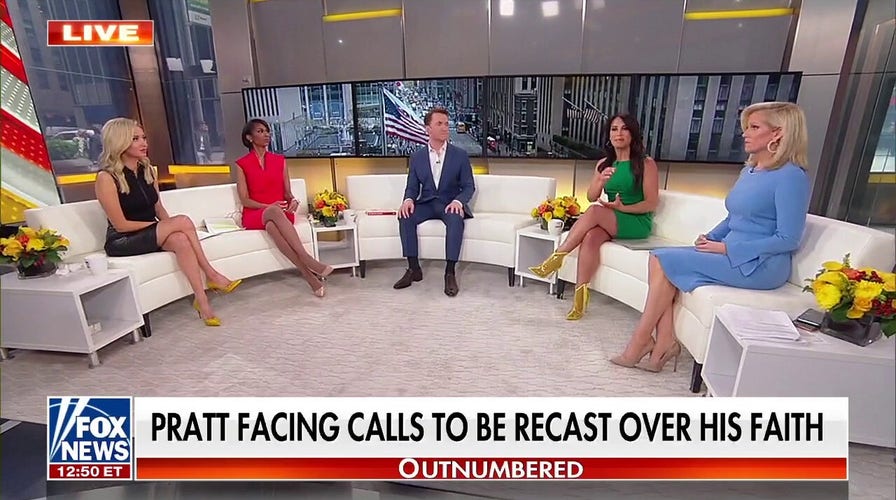 Video
Chris Pratt facing calls to be recast over public displays of faith
The 'Outnumbered' panel dives into a discussion on calls to recast Chris Pratt's Marvel character over the actor's public displays of faith.
Chris Pratt backed a political candidate Sunday ahead of midterm elections and gave his support to billionaire Rick Caruso in the Los Angeles race for mayor.
Pratt, 43, took to Instagram stories where he virtually stumped for Caruso, a former president of the Los Angeles Police Commission.
Caruso also served as a commissioner for the Los Angeles Department of Water and Power under Mayor Tom Bradley in 1985.
"I've lived in LA for over 20 years. It's been great to me. In that time I've seen what many residents here have seen, the city's gradual decline into pain and utter disarray," Pratt wrote online. "If you live here, you know exactly what I'm talking about.
TEXAS GOVERNOR CANDIDATE BETO O'ROURKE GETS ENDORSEMENT FROM OPRAH WINFREY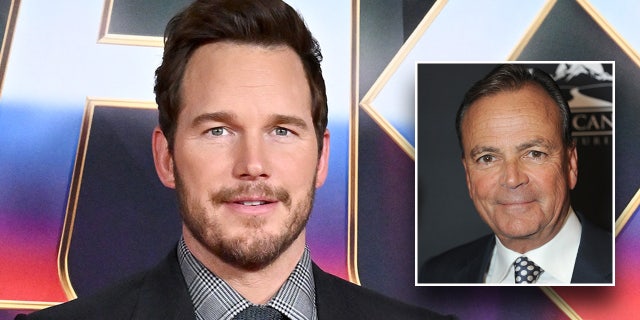 Chris Pratt gave political support to the local Los Angeles mayoral race and backed billionaire Rick Caruso. 
(Getty Images)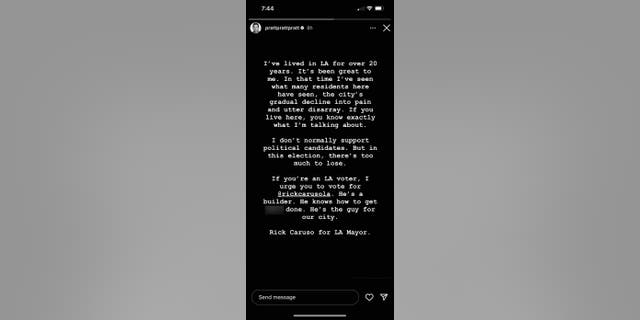 Chris Pratt endorsed Rick Caruso on Instagram.
(Chris Pratt/ Instagram)
"I don't normally support political candidates. But in this election, there's too much to lose."
He added, "If you're an LA voter, I urge you to vote for @rickcarusola. He's a builder. He knows how to get s–t done. He's the guy for our city. Rick Caruso for LA Mayor."
CELEBRITIES WHO WANT YOU TO VOTE AND ARE ENDORSING CANDIDATES AHEAD OF MIDTERM ELECTIONS
Pratt's mother-in-law, Maria Shriver, also made it known who she was voting for, and has long supported Caruso on Twitter.
"This race is super tight and every vote matters. If you want Los Angeles to be different than it is today, the choice is clear with @RickCarusoLA. Change is critical to the city's future. It's up to us – let's go," she tweeted.
Caruso, who was previously registered as a Republican, faces Congresswoman Karen Bass in Tuesday's midterms. Bass is in her sixth term representing the 37th Congressional District following re-election in November 2020.
Prior to serving in Congress, Bass represented the 47th district in the California State Assembly for six years.
CLICK HERE TO SIGN UP FOR THE ENTERTAINMENT NEWSLETTER
Bass and Caruso are running to replace termed-out mayor Eric Garcetti, but the hotly contested race has LA divided between the real estate developer (who is known for his hotspots including The Grove and The Commons in Calabasas) and former social worker who has advocated for Los Angeles communities for decades.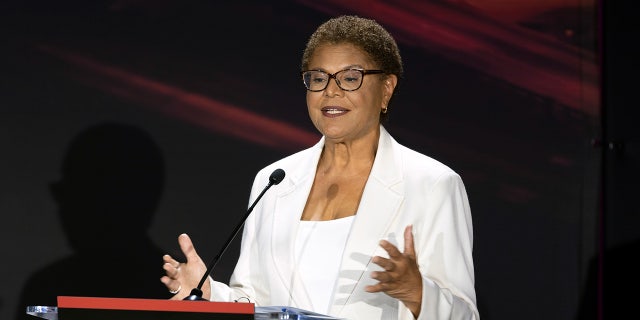 Rep. Karen Bass speaks during the Los Angeles mayoral debate at the Skirball Cultural Center in September. She's running against Rick Caruso in the midterm elections
(Allen J. Schaben/Los Angeles Times)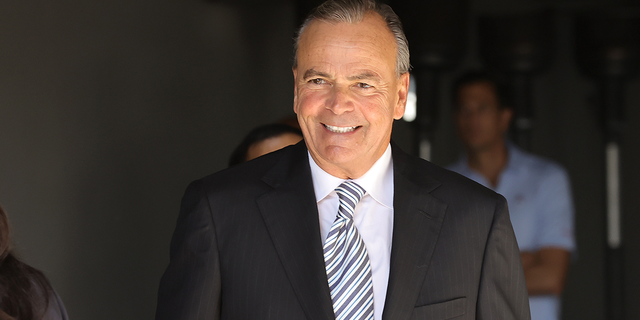 Los Angeles Mayoral Candidate Rick J. Caruso speaks at forum at Emerson College in October.
(Photo by Amy Sussman/Getty Images)
Kim Kardashian threw her support behind Caruso in May, while Katy Perry tweeted her endorsement for Caruso the following month. Snoop Dogg, Elon Musk, and Gwyneth Paltrow are all Caruso supporters, too.
According to government records, Caruso was a Republican for over two decades before becoming an independent in 2011. Caruso changed back to Republican in 2016 — a year when he served as California campaign co-chair for Republican John Kasich's presidential bid — and then to independent again in 2019. He became a Democrat shortly before entering the mayoral race in February.
President Barack Obama recently backed Bass, in addition to Steven Speilberg, Julia Louis-Dreyfus, Danny Trejo, and former LA mayor Antonio Villaraigosa.
CLICK HERE TO GET THE FOX NEWS APP