A nurse once described as a hero after she volunteered to work in an Ebola treatment centre in Sierra Leone faces the possibility of being struck off after being caught up in a botched screening at Heathrow.
Donna Wood has been found by the Nursing and Midwifery Council to have concealed the high temperature of her fellow volunteer Pauline Cafferkey when they landed at Heathrow a day before the Scottish nurse tested positive for the virus.
An independent panel of the NMC had charged her with recording a temperature for Cafferkey one degree lower than it was during a "chaotic" screening process on 28 December 2014.
At the end of a six-day hearing, the panel found this was not proved, but found that she was guilty of two other charges – that she had known Cafferkey had a high temperature and dishonestly concealed this and had failed to escalate the situation, knowing that a high temperature could be seen as a first indicator of Ebola.
Najrul Khasru, the chairman of the panel, said it had fully accepted that Wood's desire to get out of the area quickly was the primary motivation of her actions. He said: "The panel found you made the suggestion to record Ms Cafferkey's temperature 37.2C with the intention to conceal that Ms Cafferkey had a temperature higher than 38C from PHE screening staff in order to allow yourself and your group to leave the area sooner rather than later, and deal with it later."
The panel will now consider whether the findings against Wood are serious enough to involve a sanction, which range from being struck off to having conditions imposed on her future practice as a nurse in Stoke-on-Trent, where she works in end-of-life care.
Wood categorically denied that she falsified Cafferkey's records and raised questions about the competence of the screening system, which was described as "chaotic".
The panel heard that in an attempt to help doctors and staff conducting screening at Heathrow airport, the medics decided they would take their own temperatures. Wood said she recalled seeing volunteer doctor Hannah Ryan with the thermometer, and that she had held it up to her at least once.
She said she could not remember whether she had written on any screening forms herself.
The panel could not prove she had written the incorrect temperature on Cafferkey's forms but said it was satisfied she had dishonestly suggested it be recorded as such.
After the group left the screening room and made it to the arrivals hall, Ryan reported Cafferkey's high temperature to another doctor, who recommended the Scottish medic return to be screened again.
Cafferkey's temperature was checked again three times by a Public Health England consultant and was found to be a maximum of 37.6C, meaning she was given the all-clear to travel on to Glasgow.
But at some point before getting to arrivals, Cafferkey had taken paracetamol, contributing to the lower readings.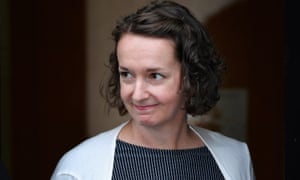 PHE says it learned lessons from the Cafferkey case, but denies its process was chaotic or deficient or that its system had failed to detect the one person who did come into the UK on a commercial airline carrying the Ebola virus.
"Screening was not designed to catch someone with Ebola. It was about getting relevant information from people and giving them information so they could be clinically referred if necessary," said a spokeswoman.
Cafferkey, who nearly died twice from Ebola-related complications, also faced NMC disciplinary proceedings but was cleared of all misconduct after a hearing in September.
Wood was brought before the employment tribunal after a third volunteer told PHE, the body that designed the screening process, that Wood had falsified Cafferkey's temperature on the form she had to fill out on arrival at Heathrow.
The tribunal raises questions about the efficacy of the screening process. With the disease out of control in west Africa at the time, there was fear and panic in some quarters that the virus could easily be brought into the UK by plane.
About 14,500 people, including aid workers, medics, press and Sierra Leoneans, arrived in Heathrow during the Ebola crisis.
The PHE contended that it was the nurses' fault Cafferkey passed through undetected as they did not comply with the screening process, referring them to their regulatory authorities. However, those who gave evidence at the NMC spoke of deficiencies in the screening process.
Only half the team in Heathrow on the day had any clinical background. The clinical lead, Deepti Kumar, told how volunteers from the "Cabinet Office" and other government departments were drafted in to the process.
Kumar and the screening manager, David Carruthers, a former police officer, told the panel they were not prepared for the high number of volunteers returning, despite the heavy publicity surrounding their trip to Sierra Leone.
Carruthers admitted they were a bit "disorganised" on the day and that they ran out of screening forms and monitoring kits and had just four screening cubicles for about 50 people.
The future of volunteer doctor Ryan is still in the balance as she faces a separate Medical Practitioners Tribunal Service hearing on 20 March.