The shallow stream that runs under the bridge in the village of Glenridding and out into Ullswater looks as gentle as the calm, reflective lake it tumbles into. Gazing out at the winter-blue sky and snow-crested hills, Liz Ali both loves and hates this dramatic landscape.
"I dread the rain," she smiled. "I just want 5 December to come and go this year, then I can get through the winter. We have been in shock for a long time. I'm proud of what we've achieved but it's been so stressful, so much hard work."
On Thursday, almost a year since Storm Desmond sent a flash flood pouring into this Cumbrian village and straight through Ali's 19th-century hotel, the Glenridding will reopen. Inside, it smells of fresh paint and pine needles. Bottles are being taken out of boxes in the cosy-looking bar, the Christmas trees are up, and a search is under way for the fairy lights.
"Now the builders and decorators are actually out of the way, we have to remember where we put everything," said Ali. "The decorations were put away on 6 December last year. We tried to save the tree – we kept putting it higher and higher up – but the water got it. It ended up in the beer garden; we still find the odd Christmas bauble out there."
It has been a long, long haul. The Ali family bought the hotel in 2007 and were first flooded in 2009. "That was just a day's work of brushing out water," laughs Liz. Last year a landslide joined the water hurling down from the hills, sending boulders pouring through the village, smashing the tourist information centre and flooding properties. Two floors of the hotel were gutted, apart from, ironically, the swimming pool. The cellar was a fish tank, the kitchens submerged. It took until May for the walls to dry out.
Hanging in reception is a board where staff would pin the weather forecast for residents. It still has the sheet from 5 December 2015 – "rain".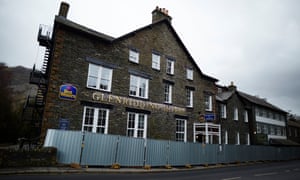 "It started about 3pm," said Ali. "At first a trickle, then this raging torrent. By 10pm it was banging at the doors: the whole river had changed its course, from running down the side of the hotel to coming through the doors. I'd been on the phone since 5pm to the emergency services – but they couldn't get through. We couldn't get out and we couldn't get our 25 guests out. There was the noise of tree trunks and boulders smashing into the walls; heating oil tanks we being washed down from houses further up. The smell was awful, and the water was everywhere, raging.
"The phones went down, the electricity was flickering on and off, and we were just listening to the eerie noises of fridges upturning, the snooker table banging against the wall. I had no idea if the foundations would even hold. It was a very long night."
It was to be two days before Glenridding had any outside help. While emergency services scrambled to help other parts of the country hit by Storm Desmond, the village was cut off – the road to north and south submerged or simply washed away.
A local building firm, Beckside, arrived first, with diggers. "They managed to clear the river bed of debris, build up the banks and send the water back into its original course," said Ali. She pointed to the name of her new bar – Beckside. "They were brilliant, so we named it in their honour, but all the volunteers who came to help were amazing. We can't thank them enough. The village pulled together."
Then, on the Wednesday, they were hit by a second storm, and a second flood.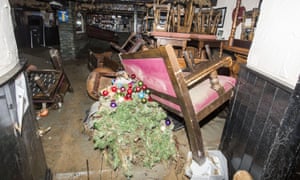 "That was terrible: we'd actually thought we'd be able to open in a week or two. I was worrying about a Christmas party we had booked in," said Liz. "Then it hit home."
Her sister Selina agreed: "It was all so chaotic that the terrible thing is I can't remember the names of half the people who came to help us clear up. We were in shock, but we couldn't have done it without them. We're a strong family and we're not quitters. We just took one day at a time.
"There have been a lot of sleepless nights: I can't even put a figure on the cost and the loss. Astronomical. It's been so gut-wrenching to see the hotel so soulless, as a construction site. It will be great to have it alive again."
It is the abundance of water here that originally brought the village of Glenridding into existence: the becks of the Patterdale valley powered a large lead mine, whose owners built houses for their workers. Dams built by the mining company failed in 1927 and 1931: the village was under water then, too, and staff at the Glenridding Hotel had to be rescued from their quarters.
The Ali family have been assured that history won't repeat itself, but they've installed a webcam, pointing at the river, just to be safe. "We've been told it can't happen again," said Liz, "but I'll be keeping an eye out."
Across the street, outdoor shop Catstycam is open for business. Andrew Laverick had two outlets, one here and one at the other end of Ullswater, at Pooley Bridge. Both were flooded by Storm Desmond.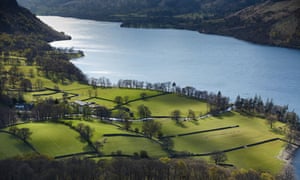 "I couldn't get into Glenridding until two days afterwards because of the roads, and communications were down," he said, "so I had no idea what I'd find. It was very emotional: I love this village, and to see it like that was very hard. I was in tears – not just for us but for everyone. Then, to get flooded again a few days later … It has been hard. There was just so much work facing us. There still is. The village has been in turmoil all year. It has been a building site."
The Environment Agency faced around 660 repair works to riverbanks and flood defences in Cumbria, Lancashire and West Yorkshire, at a cost of around £200m. Some 6,421 businesses and homes were flooded, and many vulnerable areas still face several nail-biting winters before planned new defences are ready.
Desmond's rain broke all previous UK records: the Met Office saying Honister in Cumbria saw 341.4mm of rain in just 24 hours. A national emergency was declared in Dumfries and Galloway, and a £235m, five-year flood defence strategy under way in Scotland in response to both Storm Desmond and Storm Frank.
"For me there was no option of closing down," said Leverick. "Living at the wild end of the country as we do, we're close to nature, not isolated from it as people are in cities. That is wonderful, but the flipside is that when nature decides to bite we have a front-row seat.
"The great thing has been all the people coming to the Lake District to support us. We still feel the 2008 recession here; London may be booming but our turnover had been falling. This year it feels as though people have been making an effort to support us local businesses."