This year, the idea of home has been challenged. It has felt increasingly unstable for many immigrants who have settled here, especially those who escaped conflict, only to face the fallout of Brexit Britain, or witness the nightmarish Grenfell Tower fire on news reports across the country. Home, and how it plays into the immigrant experience, has never felt more precious – and more insecure.
Home for everyone – but especially people of colour – is a political issue. Communities who might never before have felt as if they had a stake in society are learning how to establish something familiar in an unfamiliar place, and how to create space for themselves in a country that doesn't always say it has space for us: learning how to make a place feel like a home.
As the demographic of the UK changes we are witnessing people making their home here from disparate global communities, while house prices are simultaneously making long-term stability unmanageable for a generation and, tragically, the safety net of social housing is being slowly frayed to nothing.
For many immigrants in this country, home is a place where lives are rebuilt – familiar objects like plants, maps or an old school calendar take us back to who we are. Home is what we build, and how we find calm in the chaos.
From inside living rooms all across the UK, here are stories of how people in this country have worked to achieve calm after trauma, and what it means to give old trinkets and precious things from the past a new life in Britain.
'Our house is colourful. It's our culture': Ali Hayder with his family, Seaford, Sussex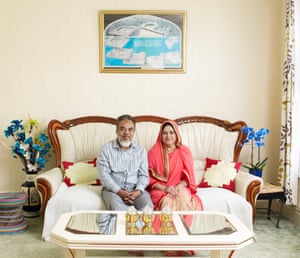 The house has become much more modern as the boys have grown older. It used to have pictures of traditional Bangladeshi boats called noka, and metallic rickshaws, but we took them all to Oxfam because the boys said it was clutter! I think our sons will keep their houses very simple.
We have lots of guests coming – cousins and friends. In our culture you must have seating for everyone. If we have guests, we pray in this room because there is more space. During Ramadan we have to push the table back. Our parents visit and say: "How do you live in this country where people just sit alone and watch TV?"
Our house is colourful, it is part of our culture to have colour – I think English homes are more simple. On the wall we have the Ka'bah, the house in Mecca, with its gold-plated doors. There is also a map of Mecca which shows how it has changed over the years, and a Qur'an in the cabinet. Anything religious can't be thrown away – it is who we are.
'I find it funny when people say this room is like the West Indies': Edna Brown, Wembley, London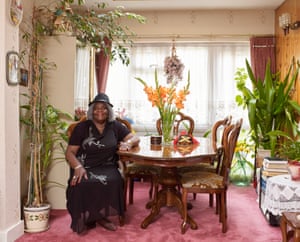 I'm from a place called Sturge Town in Jamaica. It was the second Free Village in Jamaica, and my family was one of the first families to settle there in the 1800s. I was brought up around greenery, jungle, breadfruit, mangoes. Here, I plant my apple trees, pear trees and plants to make it feel like home. I am growing as they grow.
I've been here since 1965, when there were hardly any non-white people on this street. The first night I first moved in, a neighbour brought me some boiling water to have tea – that was something we both could understand.
I find it funny when people come to this room and say it's like the West Indies. I think it's the atmosphere. I have my grandaughter's picture on the wall and Alexander Bustamante, the first prime minister of Jamaica. I also have a funny tapestry showing Jamaican rules on not taking people's house business out into the street. It reflects the Jamaican sense of humour. It sounds like my mother.
I like my house very clean. Jamaicans are like that – very fussy! Cleanliness is important. I think I'd want people to know I was living here and I loved my home – and that after all these years, I made good of myself. And that it's clean, of course.
'We left conflict. Our home is about peace and feeling secure': Noor Al Baarini and family, Handsworth, Birmingham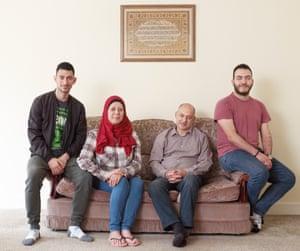 I don't know if you can compare our home now to the one we left in Syria. We don't have gardens much in Syria, we have balconies and flats. My father built our home back there and he owned it. We could do what we wanted to change the house, but in social housing in this country you cannot do things like paint the outside walls. The government has provided this house and we really appreciate that, but social housing is different.
We've been here nearly two years and our home is about peaceful surroundings and being secure. We left conflict so it is important. We do this by not having too many things, and we have a picture of part of the Qur'an on the wall. It is typical of a Syrian home, along with shisha, rugs and glassware. We miss the accessories. If we find similar ones, we will re-buy them. But for now, we just need calm.
'I'm trying my best with Ikea': Vera Chok, Camberwell, London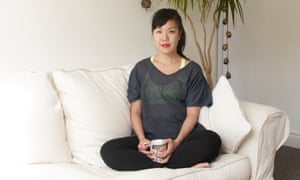 It's all the little details from Malaysia that I miss the most. I have this very old school calendar that you would usually see in what we call coffee shops over there. They are really specific, very busy kind of calendars that people hand out at Chinese New Year for free to advertise their business.
My living room has our classic sarong cloth, which I framed. It still has the price on it. But the things that remind me of my most Asian self are my collection of DVDs which are super important to me. I have movies from the classic film era of Malaysia and also modern films.
Oh, and my cow bells – they remind me of what home sounds like, goats and cows in the early morning.
I think the story that my living room is trying to tell is that I am doing my best to live in this city, which is financially difficult, and the ruthlessness of having to move all the time. I'm trying my best with the Ikea furniture.
Home is nostalgia to me now – if I go back, there are no goats and cows any more because that Malaysia has gone. Home is constantly shifting, and these days it lives inside me and my boxes.
'One thing I want is a cherry pitter. It's a very Iranian thing': Aria Alagha, Newham, London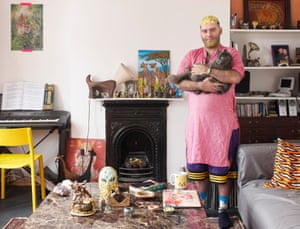 I have a thing for collecting weird tat. Anything that has a story or a history, I always keep an eye out for it. I think I feel a connection to objects that need a home.
In Tehran, where I grew up, you're more likely to get a present from your grandparents that was handmade, not mass-produced – at least in my family. Like: "You know in this village where your great-grandpa used to live? That lady makes these socks."
The Iranian carpet and a brown marble table are the big things that remind me of home and my grandparents' interior aesthetic. It's very 70s looking – marble for hot climates.
One thing I want is a cherry pitter. It's a very Iranian thing because we make a stew with cherries called albaloo polow. You sit there and pit a million cherries to make it. My living room looks really bizarre to my family. My mum looks round, casts judgment, and says: "Oh, so you put this here, have you, that's… interesting," then she'll move stuff when I'm not looking.
I think some immigrant communities want to replicate what they've left behind, and I do, but with a stronger need to create something new.