Two students were stabbed on the campus of Britain's largest further education college as they argued over a girlfriend, it has been claimed.
The teenagers sustained knife injuries during a break-time altercation reportedly involving a third teenager. One student, aged 17, was knifed in the chest, the other, aged 18, was stabbed in the back.
A 17-year-old boy has been arrested on suspicion of attempted murder in relation to the stabbing. He remains in police custody.
According to witnesses at Manchester College the row at about 11am on Thursday may have erupted over the girlfriend of one of the teenagers.
After the incident, one victim was seen clutching his chest, with his head on a friend's knee, and begging for an ambulance to be called. The college was evacuated and lectures were cancelled.
The injured pair were being treated in hospital. Police recovered a knife at the scene.
The incident occurred on the college's Shena Simon campus – one of 18 it operates – as students were having coffee after a morning lecture.
Ellie Ducker, 17, from Manchester, who studies drama at the college, said: "There were about four police cars and two ambulances and one other came later.
"Everyone was screaming and shouting. One guy was stabbed in the chest and blood was coming down – he said he needed an ambulance. People were ringing the emergency services. Another stabbed in the shoulder.
"We were looking out of the window and when we saw it happen we ran downstairs. When we got downstairs, we were told to go back in and had to stay in class. The tutors didn't know about it until we told them – they didn't know what to do.
"The guy was holding his chest and had his head on someone's knee. He was saying: 'I need an ambulance,' and everyone got their phones out.
"It's a shock, with them being really nice guys, for something like this to have happened."
Another student said: "We were supposed to be staging a theatre production, but it was cancelled and the college evacuated when all this started kicking off. It was over a girl, apparently. It sounds like they were both fighting and have both been stabbed."
The road outside the campus was closed off while officers searched the scene.
Ch Insp Gareth Parkin, of Greater Manchester police, said: "We currently have two people with serious injuries in hospital so it is imperative that anyone with information comes forward and helps us with our investigation.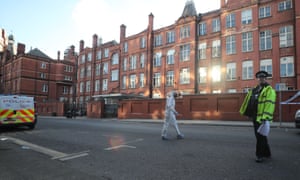 "We have recovered a knife from the scene, which will be forensically examined, but we still need people to contact us with any information they have.
"I'd like to reassure the community that we have a number of highly skilled officers working on this investigation and will continue to carry out extensive enquiries."
Lisa O'Loughlin, principal at the college – which has 10,000 full-time and 20,000 part-time students – said the college support team was helping anyone affected by the incident.
She added: "An incident occurred this morning at our Shena Simon campus, in which two of our students were injured. We are currently supporting the police with their inquiries.
"We have closed Shena Simon campus for the remainder of today and are providing full support to our students and staff at this difficult time.''