A travel agent died from a wound to the throat after she was attacked at her workplace in Merseyside, a postmortem has found.
Cassie Hayes, 28, died of her injuries in hospital after the incident at the Tui branch in Chapel Street, Southport, where she was assistant manager, on Saturday afternoon.
Merseyside police said the postmortem found that the cause of death was shock and haemorrhaging from a wound to the throat.
A 30-year-old man from the St Helens area is being held in custody on suspicion of murder.
Colleagues and friends of Hayes were among those who brought floral tributes to the scene, which remained cordoned off to the public.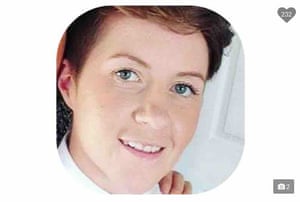 Gordon Campbell, a former colleague, said he would always remember the sound of laughter when they worked together.
"We used to do a late shift and it was often just me and Cassie, and she would have me in tears," he said. "The things she would come out with – I probably couldn't repeat them to be honest but she was just so mischievous all the time.
"But happy, full of love and she had an absolute heart of gold. She will be most definitely missed by everybody that knew her. She had quite a lot that had gone on but she never took a smile off her face … she was a little slip of a girl and to think what happened to her is tragic."
Hayes's former boss Michael Richards tweeted: "She made me laugh, cry and enjoy going to work every day and be in her company. She is one of life's good ones."
Her former partner Leah Mcdonald wrote on Facebook: "She's just a gem, my best mate. Even when we split she was there for me … this girl has been my rock and the most amazing mammy."
A Tui spokeswoman said the company sent its deepest sympathies to Hayes's friends and family. "We're doing everything possible to assist the local police with their investigation and support our customers and staff at this difficult time," she said.
Travel Gossip, an online community of travel professionals, has set up a fundraising page for on GoFundMe, which at the time of writing had raised more than £4,300.