close
Video
Moscow, Idaho, Chief of Police Jim Fry on police boxing up the belongings of murder victims
Moscow, Idaho, Chief of Police Jim Fry on his personal involvement in police boxing up the belongings of four University of Idaho students killed in November 2022. 
MOSCOW, Idaho – Moscow, Idaho, police have been tight-lipped about the mysterious circumstances of the brutal murders of four University of Idaho students more than three weeks ago.
Officials have said they do not have any suspects or a murder weapon and warned the small town of 25,000 to be "vigilant."
The victims — Ethan Chapin, 20, of Conway, Washington; Madison Mogen, 21, of Coeur d'Alene, Idaho; Xana Kernodle, 20, of Avondale, Arizona; and Kaylee Goncalves, 21, of Rathdrum, Idaho — were found stabbed to death Nov. 13
UNIVERSITY OF IDAHO MURDERS: TWO ROOMMATES WERE AT HOME WHEN FOUR STUDENTS WERE KILLED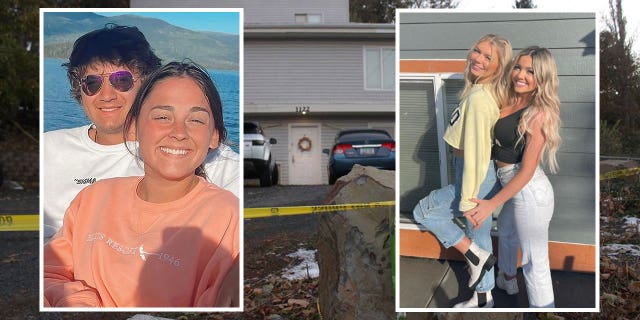 A split photo showing the crime scene and the victims, including University of Idaho students Ethan Chapin, 20; Xana Kernodle, 20; Madison Mogen, 21; and Kaylee Goncalves, 21.
(Angela Palermo/Idaho Statesman/Tribune News Service via Getty Images/Instagram/ @kayleegoncalves)
Mogen, Kernodle and Goncalves lived with two other students in a six-bedroom home off campus at 1122 King Road near fraternity row. Chapin, who was dating Kernodle, was staying the night.
This is what is known about what happened before and after the killings.
Saturday, November 12 – Goncalves' final Instagram post
At 8:57 p.m., Goncalves posted a cheerful picture on Instagram posing with four friends and smiling broadly, which appeared to be taken on the porch of a house.
"One lucky girl to be surrounded by these pple [sic] everyday," she captioned the photo.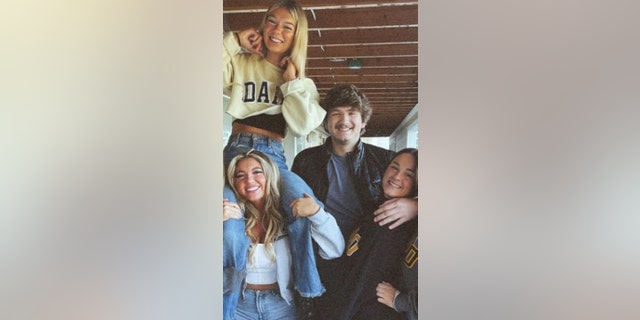 The four victims appeared to be friends based on their social media interactions and posted a photo with two other friends just hours before they were found dead on Sunday.
(Instagram: @kayleegoncalves)
That night, Mogen and Goncalves hung out at Corner Club, a downtown bar, while Chapin and Kernodle went to a party together at the Sigma Chi house on campus, according to police.
Sunday, November 13 – Two victims seen in Twitch footage
Mogen and Goncalves were captured on video at 1:41 a.m. near a food truck in a clip posted to Twitch – an online platform for livestreaming.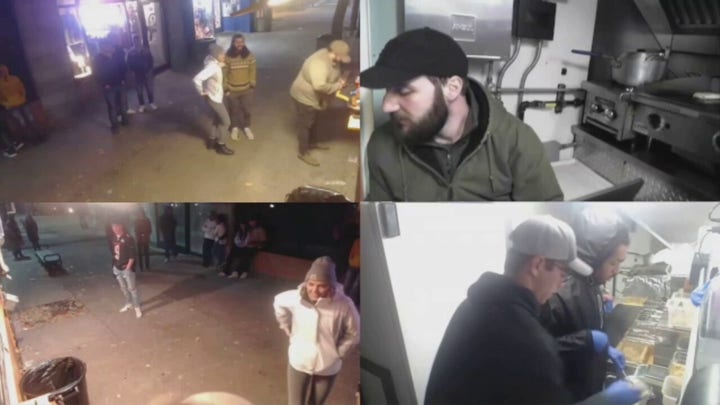 Video
Chapin and Kernodle returned home at about 1:45 a.m., while Mogen and Goncalves arrived at the house at 1:57 a.m after taking a sorority designated driving service, according to police and family.
The two female roommates who survived the attack returned home from their night out before the four friends around 1 a.m.
The murders 
The four victims were stabbed to death with a fixed-blade knife between 3 a.m. and 4 a.m. on the second and third floors of the home, according to police. The murder weapon has not been recovered.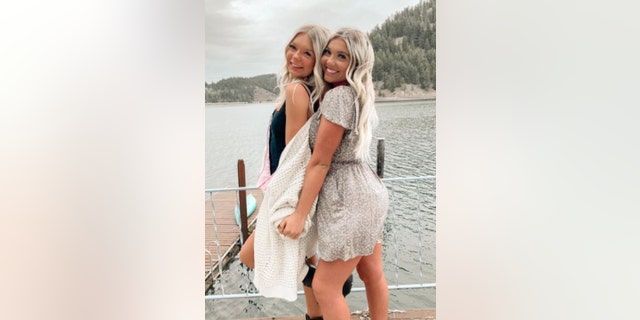 Madison Mogen and Kaylee Goncalves shared multiple photos together on social media.
(Instagram/ @kayleegoncalves)
The surviving roommates summoned friends to the house because they believed one of the second-floor victims had passed out.
A call to 911 was placed from one of the surviving roommates' phones at 11:58 a.m., reporting an unconscious person. Police said multiple people spoke to the dispatcher.
UNIVERSITY OF IDAHO HOMICIDES: WHAT TO KNOW ABOUT THE 4 VICTIMS ALLEGEDLY KILLED NEAR CAMPUS
'Shelter in Place' 
At 2 p.m. Sunday, the university sent out a "Vandal Alert" notifying students of the homicides and telling them to "shelter in place."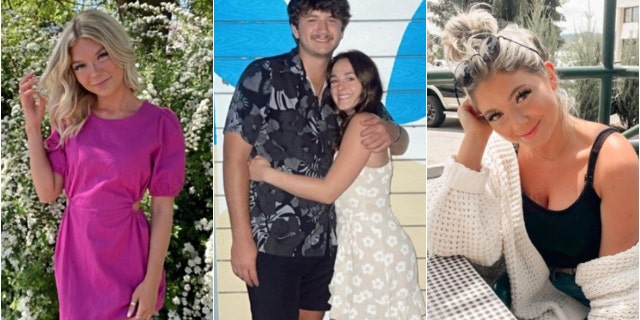 Police have named the four victims of an apparent quadruple homicide at the University of Idaho as Maddie Mogen, Ethan Chapin, Xana Kernodle, and Kaylee Goncalves.
(Instagram: @maddiemogen, @kayleegoncalves, @ethanchapin4)
However, the order was lifted an hour later, with police later calling the quadruple homicide "an isolated, targeted attack" posing "no imminent threat to the community at large."
Monday, Nov. 14 – Conflicting accounts
Mayor Art Bettge told a news outlet that the slayings were a "crime of passion" before backtracking in a statement to Fox News Digital, saying that a motive had not been narrowed down yet.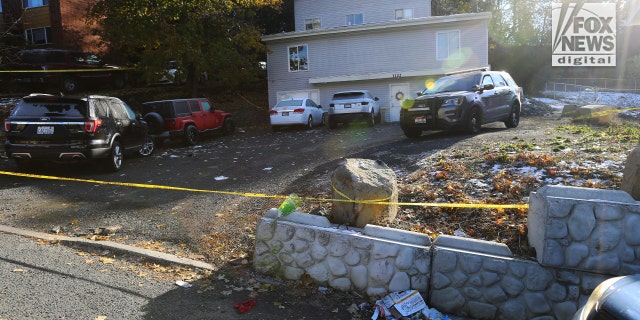 Parties are frequently hosted at the many student houses on King Road, which was littered with empty alcohol boxes and other items on Monday and Tuesday.
(Derek Shook for Fox News Digital)
Possible motives being probed by investigators include a "crime of passion" or a "burglary gone wrong," the mayor added.
Tuesday, Nov. 15 – Backlash from the community
Moscow residents, students and victims' families started to complain about the limited and contradictory information being released by public officials.
SLAIN UNIVERSITY OF IDAHO VICTIM'S PARENTS FRUSTRATED BY 'LACK OF INFORMATION' FROM POLICE, SCHOOL
The father of Chapin, Jim Chapin, told Fox News Digital in a statement that the family was frustrated by the "lack of information" from the university and police.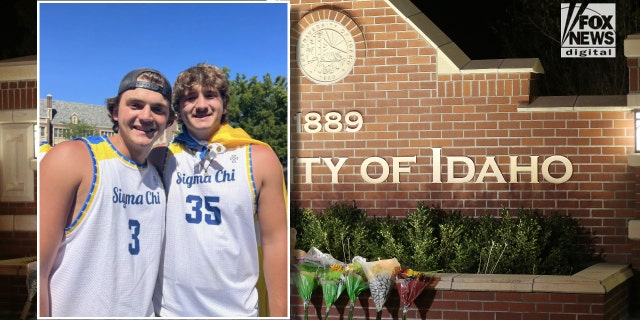 Ethan Chapin's family is frustrated by the lack of information from the University of Idaho and Moscow police.
(Derek Shook for Fox News Digital/ Instagram)
"The silence further compounds our family's agony after our son's murder," the statement says. "For Ethan and his three dear friends slain in Moscow, Idaho, and all of our families, I urge officials to speak the truth, share what they know, find the assailant, and protect the greater community."
Parents and students also vented on Twitter.
Wednesday, Nov. 16 – New details emerge, mystery deepens
At a press conference Wednesday, Moscow Police Chief James Fry revealed to reporters for the first time that there were two female roommates at the home during the horrific attack, and they were unharmed.
UNIVERSITY OF IDAHO MURDERS: THREAT STILL POSSIBLE WITHOUT ANY SUSPECTS IN CUSTODY, POLICE
Fry did not identify the 911 caller or offer an explanation for the call coming in more than 8 hours after the slayings. There were no signs of forced entry, he said.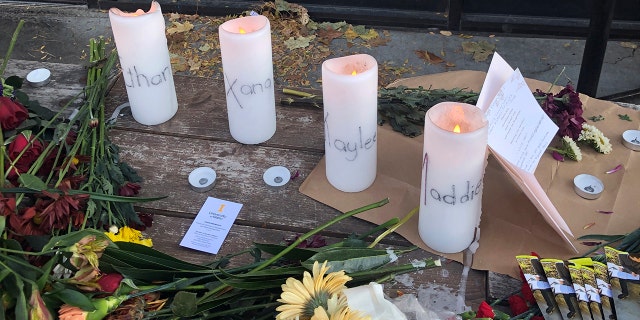 Candles and flowers are left at a make-shift memorial honoring four slain University of Idaho students outside the Mad Greek restaurant in downtown Moscow, Idaho, on Tuesday, Nov. 15, 2022. . 
(AP/ Nicholas Geranios)
He walked back earlier assertions that the crime posed no ongoing danger to the community.
"We do not have a suspect at this time and that individual is still other there," he said. "We cannot say there is no threat to the community, and as we have stated, please stay vigilant."
The FBI and the Idaho State Police are assisting in the investigation, he added.
Thursday, Nov. 17 – Coroner releases autopsy findings
The students' deaths were officially ruled homicides in a press release issued by Latah County Coroner Cathy Mabbutt.
Their cause and manner of death are homicide by stabbing, according to Mabbutt.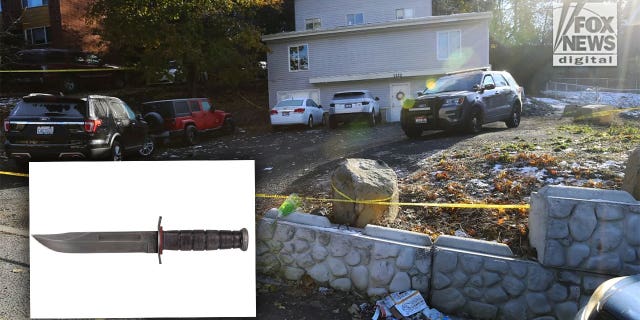 Police suspect a Ka-Bar-style knife may have been used in the slayings of four University of Idaho students, inset. Caution tape surrounds the house near campus where the students were slaughtered.
(Credit: Ka-Bar / Derek Shook for Fox News Digital)
She said the victims were likely ambushed in their sleep with a "really large knife" and described the attack as "personal" in an interview with NewsNation. Each of the victims had multiple stab wounds to their torsos.
IF IDAHO MURDER VICTIMS 'WERE GOING TO GO, THEY WERE GOING TO GO TOGETHER,' FRIEND SAYS
Friday, Nov. 18 – Police rule out roommates as potential suspects
In a press release, police said that the two surviving roommates were not involved in the murders.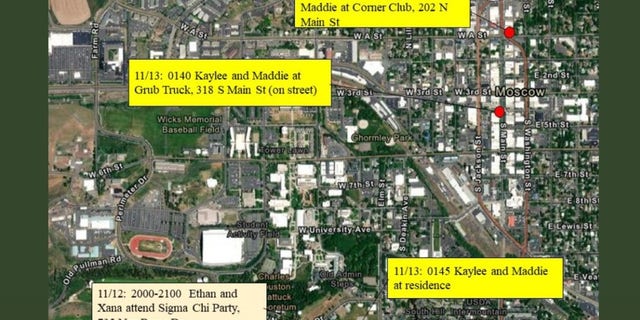 An aerial map released by the Moscow City Police Department Nov. 18 shows the final movements of Ethan Chapin, Madison Mogen, Xana Kernodle, and Kaylee Goncalves before they were slaughtered in their home Nov. 13. 
(City of Moscow Police Department )
Police also released an aerial map plotting the final movements of the four victims from the evening of Nov. 12 to the time of their murders.
Idaho State Police Communications Director Aaron Snell also said that authorities hadn't zeroed in on a motive or determined whether there was more than one assailant.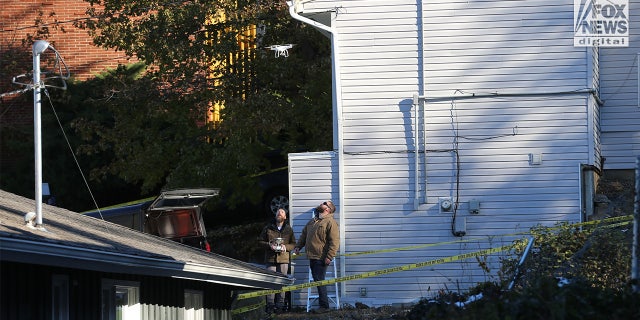 Investigators fly a drone over the home in Moscow, Idaho on Friday, November 18, 2022, where a quadruple murder took place last weekend.
(Derek Shook for Fox News Digital)
Sunday, Nov. 19 — Police rule out more people tied to case as potential suspects 
An unknown male who was spotted with Goncalves, and Mogen at a food truck in Moscow just hours before the women were killed has also been cleared as a suspect, police said at a press conference.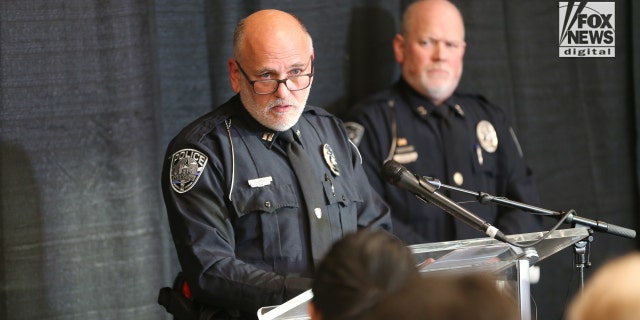 Moscow Police Department Cpt. Roger Lanier on Sunday listed several subjects whom police do not believe were involved in the quadruple homicide of four University of Idaho students on Nov. 13.
(Derek Shook for Fox News Digital)
The surviving roommates and the friends they called over to the house are also not believed to be involved in any way, police said.
Monday, Nov. 21 – Police dismiss potential connection between skinned dog and murders
An Australian shepherd found skinned and filleted three weeks before the killings wasn't related to the homicides, police said. Detectives also revealed for the first time that there was a dog at the home during the killings.
Tuesday, Nov. 22 – Did Kaylee Goncalves have a stalker?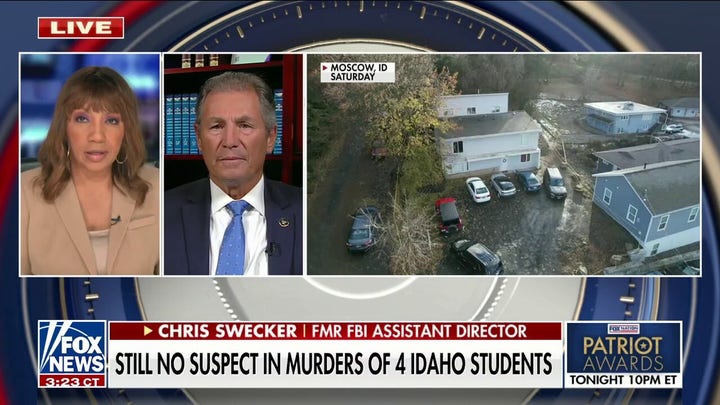 Video
Police said in a press release they "pursued hundreds of pieces of information related to this topic and have not been able to identify or verify the identity of a stalker."
Friday, Nov. 25 – Nearby stabbings unrelated to Moscow quadruple homicide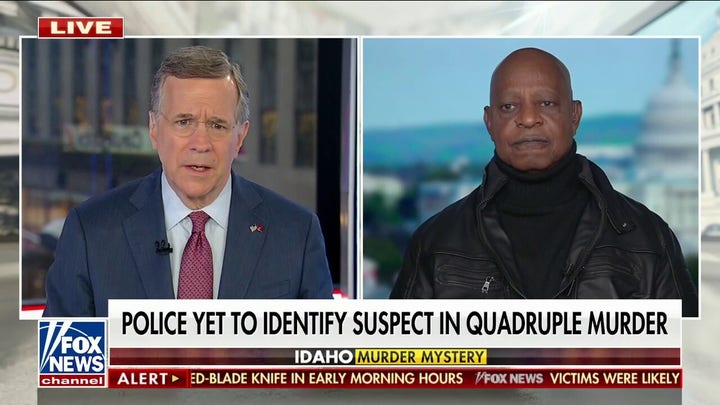 Video
A 1999 double stabbing in nearby Pullman, Washington, and the 2021 double stabbing in Salem, Oregon, do not appear to be connected to the King Road murders, police said.
Idaho Gov. Brad Little also announced that $1 million in state emergency funds would go toward the ongoing investigation.
Tuesday, Nov. 29 – Vehicles towed from crime scene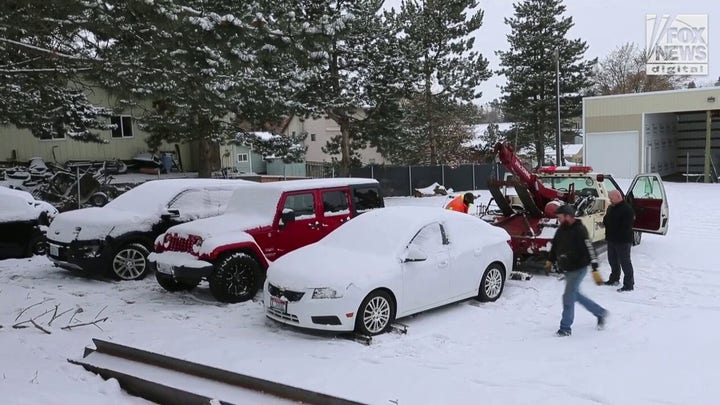 Video
Police enlist a local business totow five vehicles from the King Road home. All five of the vehicles are moved to the City of Moscow Maintenance Shop, where police can access them if the need arises.
Officials later say all of the vehicles that were towed from the home were previously searched and are "still part of thecrime scene" and the ongoing search warrant.
Wednesday Nov. 30 – Candlelight vigil & questions about victims being 'targeted'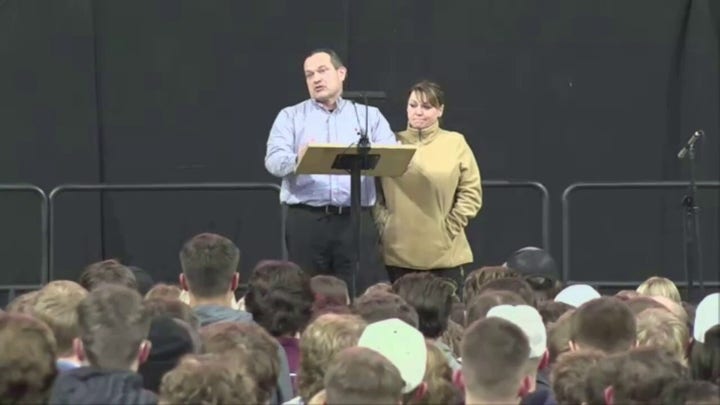 Video
Several vigils are held across Idaho and in Washington State. The University of Idaho hosts a "vandal Family Candlelight Vigil" at theASUI-Kibbie Activity Center.
Hundreds gather to hear speeches from school officials and the grieving families of three of the four victims. During his remarks, Steven Goncalves, Kaylee's father, reveals Kaylee and Mogen were sleeping in the same bed at the time of the murders.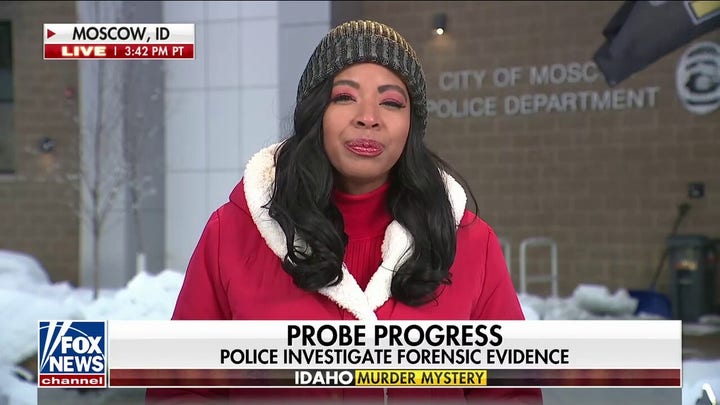 Video
Meanwhile, police and local law enforcement officials spurred confusion when there was an apparent lack of consistency surrounding if and how the attack was targeted.
A spokesperson for the Idaho State Police ultimately told Fox News: "Our clarification last night directly addressed comments made by Latah County Prosecutor Thompson, who said the suspect(s) specifically looked at this residence, and that one or more of the occupants were undoubtedly targeted. We remain consistent in our belief that this was indeed a targeted attack but have not concluded if the target was the residence or its occupants."
Saturday & Sunday, Dec. 3-4 – Parents speak out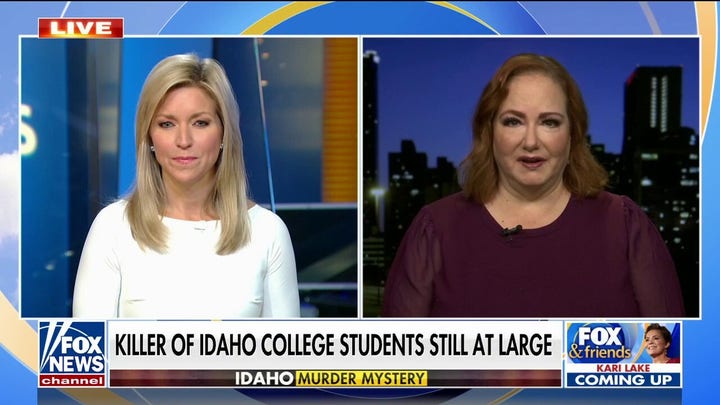 Video
Kaylee Goncalves' parents say during a series of weekend interviews that they are frustrated with certain aspects of the police investigation.
Kristi Goncalves, Kaylee's mother, told NewsNation in an interview that she felt police were ruling out possible suspects "very fast."
"I just feel like there have been a couple of individuals that were cleared very fast that maybe should not have been," she said.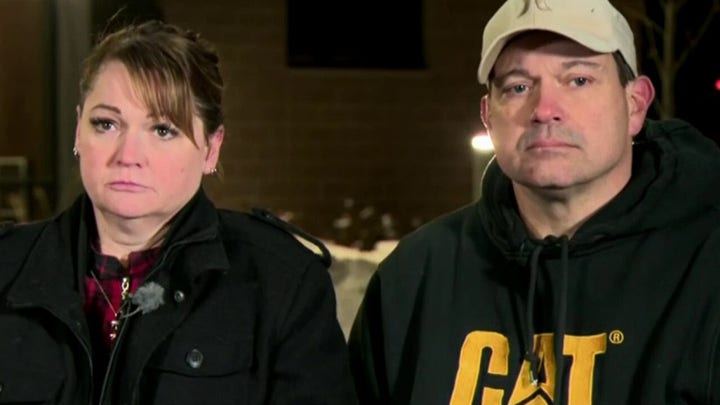 Video
She added that she does not "know anything about those individuals," but she thinks police may have cleared them too soon into their investigation. It was unclear if the Goncalves family was referring to anyone in particular.
"I just know they were people that definitely should have been looked at," she told the outlet.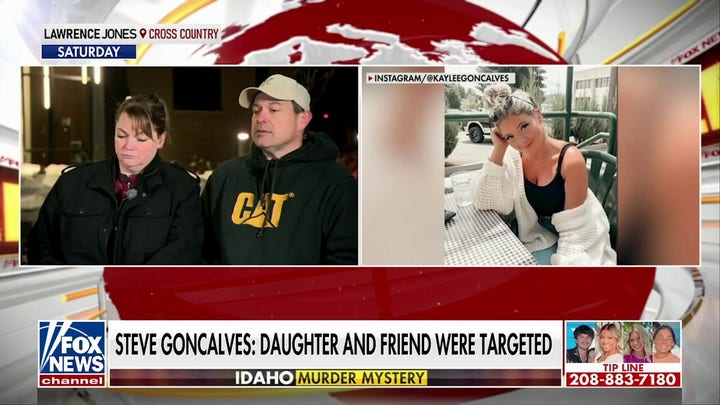 Video
Meanwhile, Kaylee's father, Steven Goncalves, told "Lawrence Jones Cross Country" the "means of death" for his daughter and Mogen – who were asleep in the same bed – "don't match."
"Their points of damage don't match," he continued. "I'm just going to say it. It wasn't leaked to me. I earned that. I paid for that funeral. … I sent my daughter to college. She came back in a box, and I can speak on that."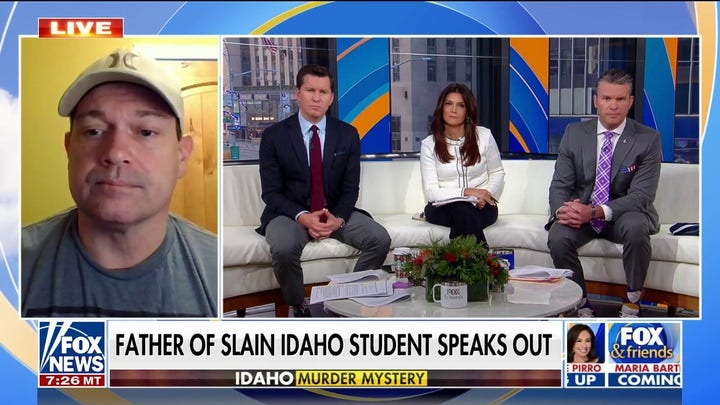 Video
Goncalves later told Fox & Friends that the suspect's alleged "entry and exit" point through a sliding glass door or window on the second floor of the home — which meets a hill on the ground level in the backyard — "are available without having to go upstairs or downstairs."
"I'm not a professional, so I want to specify that, but they've said the entry point was the slider or the window. It was the middle floor. So, to me, he doesn't have to go upstairs," Goncalves said. "His entry and exit are available without having to go upstairs or downstairs. Looks like he probably may have not gone downstairs. We don't know that for sure, but he obviously went upstairs. So I'm using logic that he chose to go up there when he didn't have to."
Wednesday, Dec. 7 – Police remove some of victims' belongings from home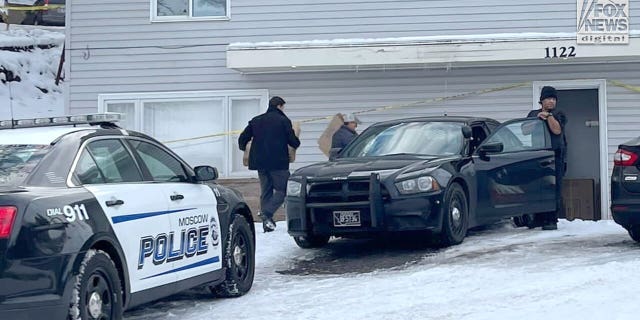 Police prepare to carry out victims belongings from the house in Moscow, Idaho, Wednesday, December 7, 2022. 
(Derek Shooks for Fox News Digital)
Moscow Police Chief James Fry and department personnel "will collect and remove some of the victims' personal belongings from the residence, which are no longer needed for the investigation, so that they can be returned to the families," officials say.
CLICK HERE TO GET THE FOX NEWS APP
Authorities are asking anyone with information about the incident to call 208-883-7180 or tipline@ci.moscow.id.us.
Fox News Digital's Paul Best and Haley Chi-Sing contributed to this report.